EDDIE KIM INTERVIEW
Executive Producer of Projekt NewSpeak
Seeks to Create a Movement that is Constantly Evolving and Continuing a New Language and Culture with a
Purpose of Empowering, Inspiring, Uplifting, Creating, Storytelling and Voicing with a Limitless Sense.


WORKING WITH APA MEDIA & ORGANIZATIONS


US ASIANS: Considering your plans for a live theater (will you be working with other theatrical organizations such as East West Players, Lodestone Theater, John Miyasaki's hereandafter (considering their present production incorporating Latin/Asian cultures) and/or other existing entities - film show/festival for the internet, could you share the many ways that the general public will witness the talents being showcased? Will you be working in ImaginAsian TV's projected new theater to be constructed in L.A.'s downtown area?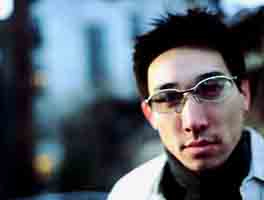 "we (Asian Americans) need to create our own scene. We need to come together and create a sphere where others are going to WANT to be included, where it is THE happening spot- be it a nightclub or a music scene. Where WE write the rules and invite whom WE want. And if anyone cares to be admitted, well that will cost you $10.

Without creating this, we will continue to be on the outside looking in. We have a lot to offer, and we have a lot that others want to be included in. Unless we organize this and make it happen, we'll be stuck where we are."(Kevin So - Singer/Songwriter)
For more info, click HERE

PROJEKT NEWSPEAK'S EDDIE KIM: Ken Oak performed on our stage last year. He really enjoyed performing on our stage. In fact, all the artists who've performed on our stage really enjoyed it. Each performer who has graced our stage had a unique background…both professionally and personally.

Some names include PK, Adriel Luis, D'Lo, Danie Jung, Asia Continental, Leonard Shek, Junichi Semitsu, Justin Nakasone, Jimmy Tran, SKIM, Shihan the Prototype, Duane Koh, DJ Ant, and DJ Ultraman.

Guests have included Miss Info from HOT 97 and DJ K-Sly from 100.3 the Beat. All of our performers and guests are talented musicians, Slam Poetry Champions, Def Poetry Jam performers and some of the best DJ's out there.

Our upcoming theatre showcase (NOT the NewSpeak SLAM!) utilizes traditional forms of entertainment and storytelling such as acting (along with other forms of non-traditional entertainment such as spoken word).

However, it is the NewSpeak SLAM! that is particularly unique compared to other events.

US ASIANS: Which APA organizations/media outlets (i.e. AZN TV, ImaginAsian TV, KoreAm, Korea Times, Hyphen Magazine, Angry Asian Man, Giant Robot, Chop Block, NaFFA, KAC, Green Pastures, AsianWeek, Third Thursdays, Asian American Studies Department, MANAA, VC, Asian Connections, AAJA, OCA, JACL, Rafu Shimpo, PMX, Stir TV, Pacific Fusion, etc.) are you working with?

EDDIE KIM RESUME

EDUCATION
University of California, Berkeley
Class of 2001: B.A. Psychology; Minor in Ethnic Studies

WORK EXPERIENCE
Projekt NewSpeak Dec. 2004-present
CEO/Executive Producer Los Angeles, CA
• Direct entertainment AA market
• Manage operations & administration
• Produce showcases and short films
• Develop opportunities for emerging artists to break into mainstream entertainment

Korean American Coalition Feb.2004-Aug.2005
Director, 4.29 Dispute Resolution Center
• Manage operations & administrationr
• Conduct mediation with clients
• Supervise staff and volunteers
• Implement proactive community education
• Writing grants
• Network with key community leaders

Democratic National Committee – Michigan Coordinated Campaign Oct.-Nov. 2004
John Kerry for President Detroit, MI
APIA/Muslim Field Coordinator
• Formulated GOTV strategy
• Organized Constituency Team on strategies
• Assisted Constituency Director
• Mobilized volunteers and interns
• Networked with key community leaders

Office of U.S. Congressman Xavier Becerra
March 2002-August 2003
Staff Assistant & Field Representative
• Liaison to federal and community organizations
• Represent the Congressman at events
• Created ties between Korean & Latin leaders
• Supervised congressional interns
• Office Manager

Koreatown Youth & Community Center 2000-2001
Coordinator, Korean American Youth Leadership Program Los Angeles, CA
• Trained high school and college interns
• Created workshops
• Implemented Asian American Studies courses
• Devised media campaign
• Conducted Korean American surveys

US ASIANS: What are your thoughts of what they've presently accomplished - along with your views about the other similar efforts such as AZN-TV, World Asia and/or MTV's new stations targeting the English-speaking Asian Pacific American communities?
US ASIANS: How has spoken word poetry, a theatrical performance in which stories of movement, struggle, love, pain, encouragement and inspiration is told, through a medium that cannot be categorized been a greater and effective means for Asian Pacific American and American youths?

Spoken word has definitely swept through the Asian American community and it still growing. It has been an excellent method to entertain and move people and at the same time enlighten young people.

US ASIANS: Could you elaborate on the "Spoken Word" scene - along with what unique things the below-listed events (i.e. Spoken Word UC Berkeley, Tuesday Night Café, Café Luna Tierra Sol, Asian Hip Hop Summit, Kollaboration, Double Standard, NewSpeak SLAM, Chinatown Service Center) bring?

Some people think it's hip hop, rap…and others think of beatniks. It's difficult to categorize it. Because it's difficult to categorize, it's almost like a pure art form. Seeing spoken word artists perform their poetry on stage can be a visceral experience because of their heart and emotion that gets poured out on stage. Yet spoken word as a genre is still underground and cannot be found in a mainstream setting. The only thing that comes close to mainstream for spoken word artists is Russell Simmons/HBO's Def Poetry Jam.

Kollaboration, Tuesday Night Café, the NewSpeak SLAM! and others are the few places in Los Angeles where you can find talented emerging Asian American artists that have not reached a mainstream status yet. But these venues are the places that aims to launch these emerging artists and create opportunities for them. These events tap into artists and arts that the mainstream may not recognize because they may not generate money like Jay Z or Kanye does, but we need to show their art because it moves people…it entertains people…it does something for all of us. And so these events are tapping into a potential that needs to be released which in turn inspires and motivates a lot of young people.