SPECIAL FEATURE
Philip Ahn
Margaret Cho
Hiroshima
James Hong
Bruce Lee
Jet Li
Keye Luke
YoYo Ma
Lea Salonga
Dalip Saund
George Takei
Kiana Tom
Ming-Na Wen
Anna May Wong

COMMENTARY
Don Duong
Martial Arts Influence
Indo-American Films
Media Ownership Limits
Police Movies' Success
Reality Shows Provide Networks' Cheap Shows
Playing the Same Roles
Musicals
Sequels
TV Stereotypes
Unscripted TV Shows
Wanna Be a Star?
INTERVIEWS
Roger Fan
David Henry Hwang
Amy Tan
Mira Nair
Vivek Oberoi
Die Another Day
Will Yun Lee
Zhang Ziyi
RESOURCES
Children Now's
FENNEC Database
Poop Sheet
Wanna Sell a Script?
BUSINESS INFO
Film Financing
Hollywood's Managera
Murdoch in China
EDDIE KIM INTERVIEW
Executive Producer of Projekt NewSpeak
Seeks to Create a Movement that is Constantly Evolving and Continuing a New Language and Culture with a
Purpose of Empowering, Inspiring, Uplifting, Creating, Storytelling and Voicing with a Limitless Sense.


US ASIANS: Could you share how your experiences with organizations such as Koreatown Youth & Community Center, L.A. County Young Democrats, Korean American Democratic Committee, National Asian Pacific American Families Against Substance Abuse, Asian Pacific American Legislative Staff Network, Korean American Legislative Staff Network, The K.W. Lee Center for Leadership, Korean Resource Center, Green Pastures Youth Center, Azusa Pacific University guest lecturer, etc. have shaped your perspective(s) of community involvement and responsibility?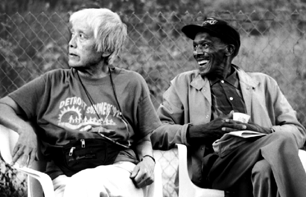 Grace Lee & Jimmy Boggs

What we need to do now is to begin engaging our children in community-building activities with the same audacity with which the civil rights movement engaged them in desegregation and voter registration activities thirty-five years ago.

Classes of school children from K-12 should be taking responsibility for maintaining neighborhood streets, planting community gardens, recycling waste, rehabbing houses, creating healthier school lunches, visiting and doing errands for the elderly, organizing neighborhood festivals, painting public murals. The possibilities are endless.

This is the fastest way to motivate all our children to learn and at the same time reverse the physical deterioration of our neighborhoods. . . . by giving children a better reason to study than just to get a job or to advance their individual upward mobility, it will also get their cognitive juices flowing.
(Grace Lee Boggs)

PROJEKT NEWSPEAK'S EDDIE KIM: I would like to see more and more young Asian Americans feeling like they can be artists, community activists, entertainers, public figures, etc. I want them to feel like they can be agents that can create movements. Our company will promote through not only shows and events, but also through internet media and print. And maybe one day when we are able to generate enough revenues, we hope to create a foundation that can provide funding back into the community for other organizations and/or individuals in need. slam poetry within the APA communities, why do you feel that the Asian Pacific American communities still have a great reluctance to make needed social changes - especially noted upon recognizing how Korean youths died to attain freedom for South Korea?
US ASIANS: Could you share a little about the productions such as Therapy, Halloween Carnivale, 1000 by 1000, Look Who's Burning (Washington Mutual) and Theater Rice?

Halloween Carnivale and 1000 by 1000 were both video clips that me and my cameraman, Brian Corpuz, created for NewSpeak TV. They were just fun clips of moments at events. Halloween Carnivale was the annual Halloween festivity in Hollywood. We decided to go an interview a lot of costumed people and see what was there in a funny way. 1000 by 1000 was just a moment where we decided to film ourselves asking an In'n'Out stand if they made 1000 by 1000 hamburgers. They told us that somebody actually ordered a 10 by 10. We didn't expect that.

EDDIE KIM HIGHLIGHTS

Born in Philly

Moved to KTown when I was 1
Moved to Lancaster in pre/school elementary school
Moved to Walnut....in Diamond Bar for elementary school
Moved to Seoul, Korea when i was 2nd grade
Moved back to KTown for 4th grade (third street elementary)
Moved to Torrance for junior high (calle mayor middle school)
Stayed in Torrance for high school (south high school)
Went to UC Berkeley...studied Psychology and Ethnic Studies....did Theatre Rice and Korean American Student Organization. did a lot of theatre...and student organizing...protest/marches...student conferences.
I live in Pasadena
Moved around a lot because dad was a civilian working for the U.S. Army/Defense Department. later on..mom moved us for education purposes...good schools in torrance and also nicer area to live in.
Grew up in church...but later on had a lot of questions about it.
I'm heavily into community empowerment...awareness...and social change.
that spark started in la...while interning at KYCC with the Korean American Youth Leadership Program.
Love Theatre...constantly was involved in that. performing in the bay area. and then performing in la. doing spoken word poetry...loved that genre...starting with the first time i saw "I Was Born with Two Tongues". they really moved me.
Theatre...movies...storytelling in general inspires and moves me. COMEDY...LOVE IT!...DRAMA...LOVE IT!
I love dark things. those moments i find a lot of inspiration.
My passion is acting/storytelling and community issues/politics.
They are both ways to create change in society...but more importantly to make an effect or impact on the minds and hearts of people.

Theatre Rice was the impetus of my passion for acting. It was a college student theatre group that I was part of during my time at UC Berkeley. Prior to my experience at Theatre Rice, I thought acting was for strange, weird people. In high school, I saw the drama kids and they were the most oddest and strangest people I've ever seen in my life. They acted and behaved weirdly…and people in school looked at them as outcasts. So it was ironic that when I joined Theatre Rice, I would love it. I joined because a friend recommended that I do it. So I tried it and stuck with it and eventually loved it. And then I realized that acting and storytelling was a passion of mine.