FILM REVIEWS
Crouching Tiger
Romeo Must Die
Snow Falling in Cedars
BOOK REVIEWS
Pursuing the Pearl
INTERVIEWS
Angela Lin
Billy Crawford
Hyepin Im
Jacqueline Kong
Jocelyn Enriquez
Kiana Tom
Larissa Lam
ARTICLES
AA Christian Music
AA Hate Crimes & Fetish
Burning of a Chinatown
Demise of Mr. Wong
EWP & Diversity
Improving 501c-3 Orgs.
KA Churches
Lost Empire Review
Politics
Vincent Chin
SPEECHES
George Takei on Diversity
SPECIAL FEATURES
Tia Carrere
Margaret Cho
Church of Rhythm
Hiroshima
James Hong
Bruce Lee
Jet Li
Keye Luke
Martial Law
Minoru Miki
Lea Salonga
George Takei
Tamilyn Tomita
Ming-Na Wen
Anna May Wong
Russell Wong
HOME

SECTIONS
Featured Actors
Featured Actresses
Featured Directors
Featured Musicians
Book Authors
Cartoonists
Fashion Designers
Astronauts
Military Personnel
Newscasters
Politicians
Business People
Community Leaders
Athletics
Television Shows
Film Festivals

CROWDED TIGER HIT DRAGON
Review of "Crouching Tiger, Hidden Dragon
Written by Arthur Hu




SOMETHING TRULY STRANGE

is happening when a Mandarin language film opens in Seattle in just two art house theaters, then breaks out to 5, and then 12 theaters in the suburban multiplexes in just 3 weeks. The show I took my father to in relatively uncultured Auburn was sold out on a Sunday night, with only a handful of Asians in the crowd. The last movie I remember where we rounded up all the extended family to see was Titanic,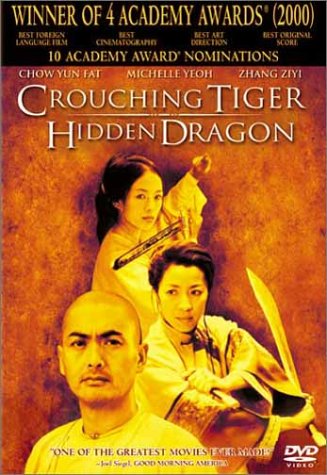 another word of mouth movie where the good guy gets it in the end.

I'M A GUY

who paid money to see and bought the script book for Ang Lee's Eat Drink Man Woman and Wedding Banquet, but I doubt more than a couple of people in the crowd had ever seen a subtitled Chinese movie before. Actually, my in-laws would have appreciated it if it was subtitled in Chinese AND English like they do in Taiwan, since they can't understand much Mandarin either. Most of the cast couldn't speak Mandarin either, but they learned fast.

THE NEW YORK TIMES

is projecting this to be the largest grossing foreign movie in American history. It's already hit #1 in France. Boxofficemojo.com reports that opened Dec 8 at number 15, with an incredible per theater average of $41,000 per theater gross. As of Jan 28, it was #6, had expanded by 31 theaters, and $5,832 per theater is still the highest for the week. It's taken in $44 million in the US alone for a movie that originally cost only $15 million.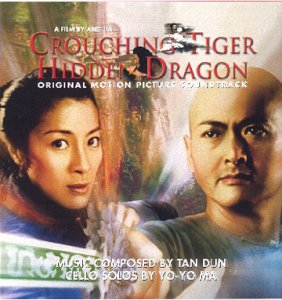 THE SOUNDTRACK

just went from 18 to 16 on the Amazon.com top seller list, and I got the last copy of the script book at Kikoyuna. CoCo "I want to be the world's best surgeon and pop singer" Lee's single is a worldwide hit even if radio stations here are ignoring it. The movie also the 3rd highest percentage of perfect ratings on the Internet Movie Database (ibdb.com) after the Godfather.

ANG LEE'S FILMS

struck me before as Woody Allen in Taipei, which can be expected for a guy who grew up in Taiwan, but went to the same New York film school as Spike Lee. Now he's doing to the old mandarin Kung Fu movies I saw back in Los Angeles Chinatown in the 70s what George Lucas did with Star Wars. Instead of computerized dogfights, he's got Chinese sword fights running running across rooftops and treetops, with 2 pages of credits for the digital wire removal. This is a more traditional Chinese style, not like the badly dubbed Bruce Lee kung fu flicks so often parodied by Americans.

HONG KONG'S YUEN WO-PING

who choreographed The Matrix also did the fighting scenes. If the movie feels like Star Wars, it's because the Chinese practically invented this kind of epic story. The novel author Du-Lu Wang died on the mainland about the same year Star Wars came out. Chow Yun Fat's Li Mu Bai is the old master who wants to turn in his magic sword. Jen plays youthful Skywalker to the senior good guys, but there's a promo shot in a red imperial dress that's a dead ringer for Princess Amidala .



Information On
The Author

ARTHUR HU is an American-born Chinese with a wife and three kids.

His profession is being a software engineer who graduated MIT in 1981. He has worked in Boston, San Jose, Seattle while writing various columns for Asian Week.

He filed in1989 a complaint which resulted in revision of UC admissions policies. He ran for Superintendent of Public Instruction for Washington State in 2000.

His interests are in diversity, politics, education reform, affirmative action and evolution.
IT'S INTERESTING that Obi Wan Kenobe, Qui Gon Jin and Yoda are practically Chinese names when Star Wars cast every species and race "except" the Asians. On the other hand, if we're supposed to give out points for ethnic everybody on this project is ethnic Chinese. American projects like Mulan featured Japanese Americans like Gedee Watanabe and George Takei, Filipina singer Lea Salonga, Eddie Murphy, and the voice of Rocky the Squirrel. But all the key players here are Chinese even if they are from all over the disapora.

CHOW YUN FAT

is from Hong Kong, Michelle Yeoh (Yu Shu Lien) is from Malaysia, the Shanghai Symphony, Zhang Zi-Yi (Jen Yu), composer Tan Dun are from mainland China, cellist Yo Yo Ma is from Boston, and mandarin pop star Coco Lee was a biochem major at UC Irvine.

THE TITLE

comes from the characters in the names of Jen and Lo which are a tiger and a dragon. Jen's caravan runs into Lo in the Gobi desert when they get hit by his horde of barbarian raiders in the desert. Jen runs off in an wild horseback chase to get back her comb he stole from her. Lo comes off like the tough biker gang guy who takes her prisoner, but he ends up being a REAL man compared to the nice Han guy her parents want her to settle down with. Lo comes back to rescue her in the end.

AUDIENCES IN SHANGHAI

and Beijing were cool to the seemingly excessive flying scenes and wanted more blood, and more plot details, On a Joe Bob Briggs drive-in movie scale, there are no servered heads or limbs, but there's one wet t-shirt, a half dozen dead guys,

lots of girl fights, a knife impaled in the forehead, disemboweling a (dangerous) old lady, and a dart poisoining. But the Americanization seems to suit the West and westernized Asians just fine. Yi Yi is another Taiwan film wowing the critics with a kid armed a camera. But nobody's going to see it if it's only at one theater for a week. Tiger and Dragon already snagged the Golden Globe best director and foreign film, and actually has a shot at the Oscars, something that only 6 foreign language films have snagged before.

MY FATHER SAYS

that he grew up around the mountains mentioned in the movie, and that village scenes were very much like the China he grew up in. This is certainly one to put on your cultural events list if you haven't seen already. It's not the first, and maybe not even the best Chinese martial arts movie, but it is a landmark accomplishment as a major Chinese contribution to the world culture.

Any questions regarding the content, contact Asian American Artistry
site design by Asian American Artistry
Copyright © 1996-2001 - Asian American Artistry - All Rights Reserved.