BLACKEYE PEAS COOKED WELL
IS BETTER THAN BLING BLING BLING!
Concert Review - Blackeye Peas at Anaheim's House of Blues


The multi-cultural/multi-ethnic audience at Anaheim's House of Blues confirmed the Blackeye Peas' beliefs that their music, the hip-hop revolution and

their fans are a musical reflection of an America becoming increasingly unified in its culture. Throughout the performance, their songs and words clearly defined their strong conviction expressed in their last c.d. ("Bridging the Gap") that their "music is a bridge" for all generations.
Their four piece band (George Pajon on guitar, Michael Fratantuno on bass, DJ Motiv8 on turntables and Terence Graves on drums) brought harder-edged beats, passion, focus, added musical textures and greater impact to their live performance and words such as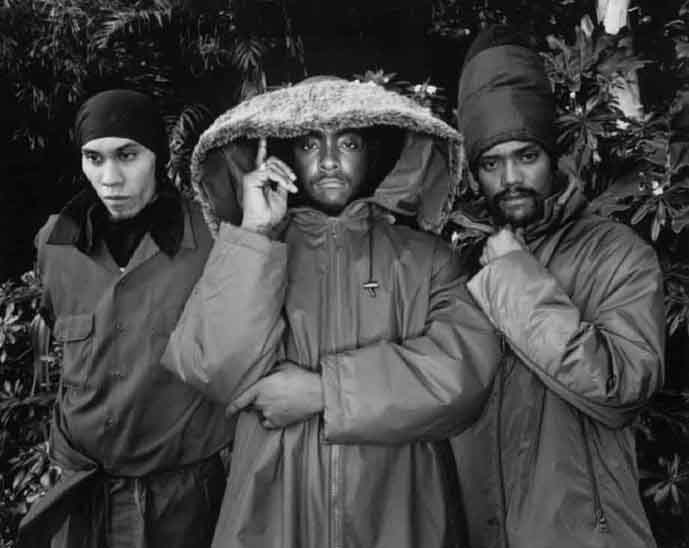 "I know I'm not the only one that's filling the void
Creatively hip-hop is being destroyed
A lot of rappers really need to be unemployed
because the topics that them talk about
has got me annoyed"
Even the "little guitar skits" heard on the c.d. was evident in their live performance at Anaheim's House of Blues.

Without the normal "hype crew" that is so often associated with rap acts, they provided a special section within their House of Blues performance with passionate attempts at dancing to captured their audience.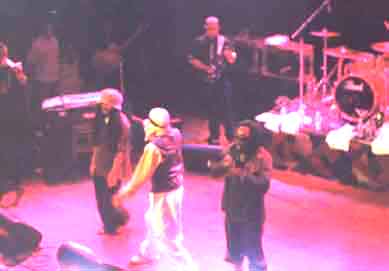 Their various breakin' moves, pseudo "lockin" steps, "freeze action" sequences, etc. demonstrated their ability to "connect" to their followers without the normal trappings often seen in hip-hop/rap in the form of a large hype/dance crew. Their choreography and apparent joy in "showing off" was a great hit with their audience.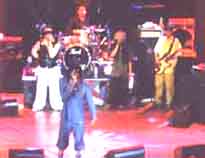 Working with diverse and talented artists on their recent c.d. such as Macy Gray, De La Soul, Gang Starr's notorious DJ Premier, Wyclef, Charlie 2na of J-5, Afrika Bambaataa and Mos Def have provided various opportunities and inspiration to explore the higher stratoshere of artistic creativity. Their last c.d. and performance provided ample evidence that this process is occurring. Upon viewing the evolution of an artist's growth, one can accept the minor glitches of an artist trying some things that appears to be "stretching out" or filling time in their 1+ hour performance as part of a process in exploring where their artistry can take them. This slight inconvenience is far more preferable to the normal "t&a" shows, hard-core obsenities and automatic robotic shows of most young stars of today.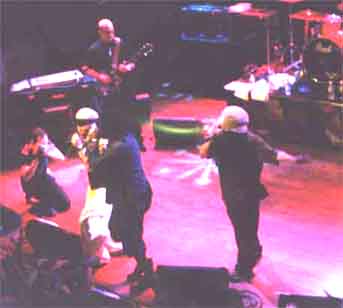 In the end, if you're looking for something more than the ad naseum "bling bling bling" and simplified drum machine beats of the cookie cutter rap stars gracing current airwaves, Blackeye Peas' concert was something to be enjoyed. BEP's performance with their live band provided tangible evidence that they are still seriously exploring the many possibilities available that are available to their artistry. Their performance provided great evidence that they might be the "break-out" act of "positive rap" that will lead the way for other similar groups such as Jurassic 5, Common, the Roots, Mos Def and Dilated Peoples that have receive critical acclaim but lackluster sales, when compared to other gangsta rappers. I hope that some cooking "Blackeye Peas" will replace the tired "bling bling bling" music diet of the general public.
Any questions regarding the content, contact Asian American Artistry
site design by Asian American Artistry
Copyright © 1996-2001 - Asian American Artistry - All Rights Reserved.