PERFECTIONIST, PROFESSIONAL AND PATIENT
A Lea Salonga Interview
FAMILY HISTORY
US ASIANS: When did the 5'2.5" Maria Lea Carmen Imutan Salonga become "Ms. Lea Salonga?"
LEA SALONGA: I don't really know... I guess when I started gaining some kind of renown in my country, and was being introduced to sing. That's how my name would be called. It was more weighty though, after Miss Saigon became the hit that it was.
US ASIANS: Could you share the origins of your nicknames such as Lei, Tata and Manang?
LEA SALONGA: My mom gave me the first two nicknames, out of affection. The "manang" monicker came from my younger friends who saw me as an older sister figure (manang in Ilonggo means "older sister".)
LEA SALONGA BIOGRAPHY

Lea Salonga made her professional debut at the age of 7 in Repertory Philippines' production of The King And I and has since appeared in Cat On A Hot Tin Roof, Fiddler On The Roof, The Rose Tattoo, Annie, The Sound Of Music, The Goodbye Girl, Paper Moon and The Fantasticks.

At the age of 10 she began her recording career and received a gold record for her first album Small Voice. She has also hosted her own musical television show, Love, Lea, and opened for Stevie Wonder during his concerts in Mani la.

In 1989, Lea went to London to play the role of Kim in the hit musical Miss Saigon for which she received a Laurence Olivier Award, and in 1991 went on to portray that role on Broadway where she garnered the Tony, Drama Desk and Outer Critics Circle A wards. While in Miss Saigon Lea recorded the singing voice of Jasmine for the Walt Disney animated hit Aladdin, and soon after recorded the role of Tuptim in a new recording of The King And I with Julie Andrews, Ben Kingsley and the Hollywood Bowl Orchestra.

Lea has performed for former President and Mrs. George Bush, HRH Queen Elizabeth II and President Bill Clinton.

To read the rest of this article by Jeffrey Chew, which includes all the Awards/Recognition, performances (including the roles and shows) and her film/television performances, please enter HERE.
US ASIANS: Could you elaborate on how Ligaya (your mom) helped your career by being strong-willed and matigas?
LEA SALONGA: My mother is a person who doesn't take "no" for an answer. At a time when she was told that a child's record (meaning MY albums) wouldn't sell, she would go from store to store in Raon (a part of Manila that sold lots of recorded music) and try to peddle my first single. Before she knew it, more orders for copies were coming in. She didn't accept anyone telling her that it was impossible. Man, if those people could see her now! It was a great example to watch, as it shaped my own determination to succeed at what I wanted to do, and set my mind to.
US ASIANS: As role models, what specific things have your parents (Feliciano Salonga and Ligaya Imutan) shared with you since your birth on February 22, 1971?
LEA SALONGA: My parents stressed the importance of education. It was something that no one could take away from me, and would definitely shape the way I look at things. I also learned from them that intelligence wasn't everything: preparation and perseverance were also important qualities to have, in order to make it in this world.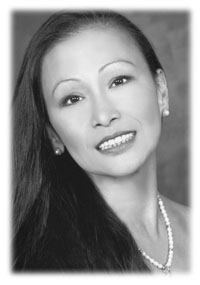 Maniya Barredo

US ASIANS: Could you share more about your other family siblings (i.e. Prima Ballerina in Atlanta, Artist in Manila and Musician based in Boston – in addition to Sheila, your adopted sister) that are in the entertainment industry and how they've supported your career?

LEA SALONGA: Okay... the prima ballerina and artist/sculptor aren't my siblings, they're my first cousins. The musician once based in Boston is my brother Gerard, who's now based in Manila. Shiela is in college majoring in Communications. The main supporters of my career were my mom and brother. Sure, everyone else has been great too, but not in the way Mom and Gerard were. They were there for everything, good and bad.

The prima ballerina is Maniya Barredo (For more info on Ms. Barredo, click HERE) . I believe she's our country's only Prima Ballerina, having been bestowed that title by the legendary Dame Margot Fonteyn (according to my aunt, Maniya's mom who's my mother's oldest sister, the title of "prima ballerina" isn't one you can give to yourself; it can only be bestowed upon you by someone really great. I'd have to check the exact definition). My other cousin Gabriel is a sculptor and painter. His works have been commissioned by heads of state and our country's illustrious individuals. I've seen his stuff, and it's fantastic.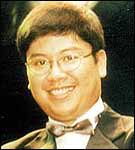 Gerard Salonga

US ASIANS: Recognizing that your brother (Gerard Salonga) is your music director; could you share more about his many multiple talents as a musician, record producer and symphony orchestra conductor?

LEA SALONGA: Well, those are his talents... he's a conductor, orchestrator, arranger, record producer, film scorer, musician. I don't know what else there is to share about the particular talents themselves, except to say that the best statement I can make is to listen to his music. That more than anything is testament to his own hard work and unique God-given gifts.

US ASIANS: In addition to Gerard's participation in your 2005 tour, what other things is he involved with?

LEA SALONGA: He's been crazy busy orchestrating a film and recording plenty of orchestral music. He's also busy planning his wedding.

PERSONAL LIFE OF A FILIPINA DIVA


US ASIANS: Has all your success in life provided one of the things that you prized the most – privacy, in addition to a great husband?

LEA SALONGA: Ironically, my success in life has taken one thing that I do prize: privacy. Because of my work, I'm easily recognizable when I'm in Manila. I'm aware that when I walk into a store or a restaurant, people will look at me. It's something I always found a bit uncomfortable, but as I get older, I'm finding myself better with it, and more comfortable. It's something that's part of the business.

My work did find me a great husband though, and because of it, I thank God that this is the work I do. I wouldn't have met him otherwise. So, I can't say that success brought him to me; the work assignment did.

US ASIANS: How important for you to be known as "one very loyal, hardworking, professional NUTBAG who is crazy with my friends and protective of the people I love?

LEA SALONGA: It's incredibly important to me to keep my feet on the ground and maintain a close circle of friends. The "nutbag" part just means that I let myself go when I'm around people I love and trust.

US ASIANS: You've stated that you wanted to maintain a 'harmony and balance' in the world, could you elaborate and/or provide more details on your meaning?

LEA SALONGA: I want to try and maintain harmony and balance in my life. It means, enjoying a good career and having a great life. I don't ever want to say, "damn it, I should have taken advantage of that work opportunity," without saying, "I should have spent more time working."

US ASIANS: Remarking on your incredible memory (i.e., remembering at a Café Royal party in London following the 10th anniversary concert version of "Les Miz" where she remembered a writer's column that wrote a glowing report of your performance in Honolulu at a Philippine Ministry of Tourism party at the Sheraton-Waikiki with First Lady Imelda Marcos when you were about 10), has it been of great use in your life as a performer and personally?

LEA SALONGA: My memory helps me with memorizing lines in songs and dialogue. I can't be forgetful about stuff. But my brain is specialized in the way it remembers things; I can remember a full script and memorize lines very quickly, but can't for the life of me recall where I dropped my keys or left my purse.

US ASIANS: Do you feel that your moodiness – that sometimes results in being a nice person who is good-naturedly sarcastic, arrogant/suplada, crazy and loud – is the result of a person who is extremely creative and passionate?

LEA SALONGA: Nope... I know lots of "non-creative" people who are arrogant, and lots of "creative" people who are perfectly wonderful and sweet. The two don't always accompany each other. My moods are shaped by my personality more than anything else. My work has nothing to do with it. I'm just a bit quirky and weird, because I'm quirky and weird.

US ASIANS: As a previously East Coast-based person, what do you feel is the level of "culture" in Southern California?

LEA SALONGA: Los Angeles and New York are two different cities catering to different wants. It really depends on your definition of "culture". If you're into theme parks, movies, and the sunshine, go to LA. If you love the theatre, Central Park, and museums, head to the East. It all really depends on what you want.

US ASIANS: What elements do your favorite television programs (i.e. Cartoon Network. Teen Titans, Johnny Bravo, etc.) have in common?

LEA SALONGA: Teen Titans and Johnny Bravo are both shows produced by the Cartoon Network (CN is a cable channel that shows cartoons 24/7). But cartoons aren't the only shows I watch: I love Law & Order, Veronica Mars, CSI, Without a Trace, House M.D., and other detective/investigative shows. Those are great to watch, and I love the pacing of them all. I'm also a huge American Idol junkie. I already have a few favorites that I'll be definitely rooting and cheering for.