MS. HYEPIN IM
Prominent Korean American Leader
Selected for Prestigious European Program



FOR IMMEDIATE RELEASE
Thursday: March 8, 2001

Contact: Dr. Paul Jhin
(310) xxx-xxxx






LOS ANGELES, CALIFORNIA - Ms. Hyepin Im, a naturalized citizen from South Korea is a prominent leader within the Korean/Korean American communities, will be attending the American Marshall Memorial Fellowship Program between March 15 to April 8, 2001 that is sponsored by THE GERMAN MARSHALL FUND OF THE UNITED STATES (HTTP://WWW.GMFUS.ORG). The purpose of this prestigious program is to educate a new generation of American leaders on the importance of international relations, and the transatlantic relationship in particular.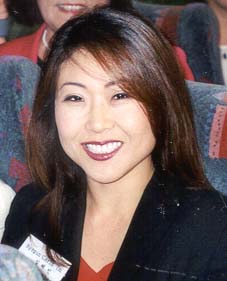 MS. HYEPIN IM HAS STATED that "I am honored to be representing the United States for this opportunity. In particular, as a Korean American, I believe I will be bringing another dimension of America. I definitely am looking forward to my trip to Europe - It will be a great opportunity to finally fulfill my high school desire to visit Europe and a chance to learn about Europe. As someone who desires to continue in public service, I think this experience will be invaluable."
MS. HYEPIN IM, a venture capitalist for Renaissance Capital Partners, received her B.S. from U.C. Berkeley and her MBA from University of Southern California. She is currently pursuing her Master of Divinity at the Fuller Theological Seminary. She's also served as President of the Korean American Coalition, a prominent community leadership organization and has received numerous awards from political illumanaries such as California Governor Gray Davis



Hyepin Im

Awards & Accomplishments




German Marshall Fund - 2001
American Marshall Mem. Fellowship
Insights into European leadership

Chung Sol Award, 2000
Samsung America & KA Coalition
For Korean community involvement

CA Comm. on Improving Life 2000
Gov. Gray Davis appointee

Pacific Council on Intl. Policy - 2000 Promote understanding and action by leaders from US & Asia

Overseas Korea Foundation - 1999
Sponsored by the Korean government

ITT National Scholarship
Received a full university scholarship
MS. HYPEIN IM WAS SELECTED through a rigorous national process of interviews, application and essay. The AMMF program provides a three-week program in Europe is designed to give "Fellows" a more comprehensive understanding of Europe and the importance of transatlantic relations by discovering the social, cultural, and economic circumstances affecting the development of community foundations in a country other than their own. Her selection was based on her fitting the Foundation's requirements of somebody who is intellectually curious, strong potential for leadership, strong record of civic/community involvement, thoughtful, flexible, independent, resourceful team players and a good sense of humor.

SHE HOPES THAT THIS PROGRAM will lead her into a career in helping the disenfranchised find access to opportunities (U.S. & Europe), to explore if faith organizations are involved in the government and social structure in bringing its resources and influence to the community at large. Of particular interest to her is seeing where the Korean immigrant community resides in each country and seeing where they are in their assimilation into the social structure of each country. Of particular interest is the role the second generation is playing in the newly adopted country.

THIS PRESTIGIOUS LEADERSHIP PROGRAM will take all the candidates to the following prominent European cities: Washington D.C., Brussels/Belgium, Amerstam/Netherlands, Copenhagen/Denmark, Hansburg/Germany, Liston/Portugal, Lyon/France, Madrid/Spain, Budapest/Hungary, Prague/Czech Republic, Warsaw/Poland, Krakow/Poland and Berlin/Germany throughout March 2001.

US ASIANS, in recognition of the importance of new visionary political/community leaders within the Korean American/Asian Pacific American communities, will provide a weekly diary of her many learning experiences in her process of being a prominent leader within this prestigious program on the Internet. In accomodating the great interest from the United States, Asia and Europe - it will be posted at http://www.USAsians.Net/articles-hyepindiary.html and at our "mirror site" at http://members.tripod.com/~usasians/articles-hyepindiary.html,




Click HERE to read
Ms. Hyepin Im's diary describing her European journey
as she visit various Heads of State and
her subsequent invaluable learning experiences.





Any questions regarding the content, contact Asian American Artistry
site design by Asian American Artistry
Copyright © 1996-2001 - Asian American Artistry - All Rights Reserved.